Marijuana Charges
Seasoned Criminal Defense Attorney Helping Individuals in Reno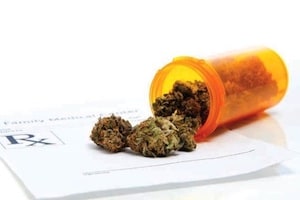 Although marijuana is popular for both medicinal and recreational use throughout Nevada and California, numerous offenses related to its possession and distribution still exist, and a violation may have harsh consequences. If you are arrested or charged with a marijuana offense, you can still mount a defense against the prosecution. Having a well-prepared and thoroughly researched approach to your strategy is important, and enlisting a knowledgeable criminal defense lawyer to defend you may be critical. Based in the Reno area, William J. Routsis has been practicing law for 25 years and has significant courtroom experience. If you are facing drug charges, he can explain your situation under the law, as well as your options to avoid or mitigate the potential consequences.
Facing Prosecution for Marijuana Possession, Cultivation, Sale, or Trafficking
Unless obtained with an authorized prescription, the knowing or intentional possession of one ounce or less of marijuana is a misdemeanor offense in Nevada. For a first-time offense, the penalty is forfeiture and a maximum fine of $600, potentially in addition to a mandatory drug addiction assessment and rehabilitation treatment. The penalties increase in severity with the number of subsequent offenses to include incarceration, and, upon the fourth offense, a felony charge.
In Nevada, the cultivation of marijuana is defined as knowingly or intentionally manufacturing, planting, growing, harvesting, or otherwise producing or processing marijuana, unless the grower is authorized by the Nevada State Health Division, or the grower is an authorized marijuana patient who is unable to obtain marijuana for certain specified reasons. The sale of marijuana is covered by a criminal statute that makes it unlawful to transport, sell, exchange, barter, supply, or commit any other unauthorized act with marijuana. Once the amount grown or sold is 100 pounds or more, the charge may be elevated to marijuana trafficking.
Trafficking is a felony offense, defined as knowingly or intentionally selling, manufacturing, cultivating, delivering, or transporting marijuana into Nevada, or possessing it with the intent to do so, in an amount of 100 pounds or more. Penalties will vary depending on the amount of marijuana involved and the number of repeat offenses, but they are generally harsh, including a minimum sentence of one year in prison.
There are several defenses and strategies for disputing marijuana charges. Since the prosecution has the burden to prove each element of the crime beyond a reasonable doubt, evidence can be offered to rebut the prosecution's case, such as whether the accused possessed the requisite intent and whether the amount of marijuana was measured accurately.
Police misconduct may also provide an effective defense to marijuana charges. For example, if marijuana was discovered by police as the result of an illegal search or seizure and the evidence is suppressed by a judge, the prosecution will not be able to use it against you. Unlawful searches include those conducted without probable cause, a valid warrant, or voluntary consent. In addition, admissions and confessions to crimes must be voluntary. If they are obtained while a suspect is in police custody during questioning regarding the crime, they must occur after the police issue Miranda warnings. Any statement made involuntarily, such as those obtained as the result of force or coercion, or made without knowingly waiving your Miranda rights, may also be considered inadmissible at trial. This means that the contents of that statement would be suppressed.
Discuss Your Charges with a Reno Lawyer
William J. Routsis believes that every individual should have access to competent legal representation, regardless of his or her financial resources. His commitment is demonstrated through substantial pro bono work, as well as his personal dedication to learning all of the details of each client's case. Attorney Routsis has successfully defended many individuals facing drug charges and other criminal allegations in Reno and the surrounding communities in Nevada and California. To discuss your situation with an experienced attorney, call (775) 337-2609 or contact us online to schedule a consultation today. Many of our clients have come from Carson City, Winnemucca, and Lake Tahoe, among other areas.