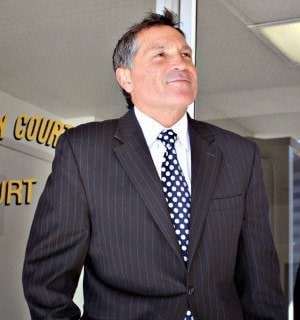 William J. Routsis
William J. Routsis II is licensed to practice law in both Nevada and California and has provided relentless representation to individuals charged with crimes for more than two decades. As a philanthropically motivated attorney with a sincere desire to protect the rights of underserved communities, Mr. Routsis has devoted much of his professional career to providing pro bono legal services to those overburdened by the unfair realities of the criminal justice system. Mr. Routsis is passionate about the pursuit of justice and handles each of his client's cases with the utmost care and attention detail, and ensures that each client is provided the highest quality of representation possible.
During the previous twenty-five years Mr. Routsis has established an impeccable trial record highlighted by eight homicide trials resulting in zero guilty verdicts. In each of these cases Mr. Routsis genuinely believed that his client was innocent of the alleged offenses and worked tirelessly to gain that recognition from the jury. Mr. Routsis successfully defended his first murder trial in Bakersfield, California in the case State of California v. Teddy Wilson. At the time of this trial Bakersfield was dealing with a serious corruption problem in its forensic pathology department and the District Attorney's office. Owing to the tenacious efforts of Mr. Routsis, Teddy Wilson was granted an acquittal by the judge before the jury could deliberate. After the defense closed its case, concluding a two week jury trial, Mr. Routsis made a unique request under California law asking the judge to direct a verdict of acquittal. The standard of review necessary to remove a case from the jury after a trial is a "finding that no reasonable juror could find the Defendant guilty beyond a reasonable doubt." Any attorney or judge would tell you that this is essentially unheard of following a heated homicide trial. Nonetheless, pursuant to order from the Superior Court Judge, Mr. Wilson was acquitted and freed by a directed verdict after a full trial.. (Please read further about this unique case in the "Featured Cases" section of this website which includes a newspaper article about this case.)
William Routsis grew up in the Lake Tahoe area and attended high school at Incline High School before attending college at the University of Nevada, Reno. After completing his undergraduate studies he enrolled in the McGeorge School of Law in Sacramento, California, and concluded his legal studies as one of the top two students in the field of constitutional law. When he is not working on his clients cases Mr. Routsis enjoys exercising and participating in outdoor activities such as hiking, kayaking, swimming and playing tennis. During his undergraduate studies at the University of Nevada, Mr. Routsis earned the title of Collegiate National Light Heavyweight Boxing Champion twice, and spent time training professionally.